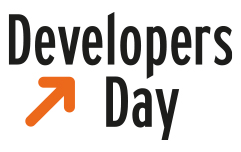 Developers Day – Workshops
Kariera.gr, the leading e-recruitment site in Greece, innovates once again while continuing its series of successful Interview Days.
Τhe 5th Developers Day Event is organized in Athens on May 28th.
Suturday,
28th of May 2016
10:00-18:00
See event's schedule here:

10.00-10.30 | Accenture
How to write the right code
Lambros Lambrou, Software Engineering Manager
10.30-11.00 | Customedialabs
The art and science of Product Development
Manos Sifakis, CEO
Sotiris Boukouvalas, Director of Innovation
Nikki La Croce, Director of Product Management
11.00-11.30 | Intrasoft
Next generation cloud applications
Elias Kotsos, Senior IT Consultant
Charalampos Ploumis, Solutions Architect
11.30-12.00 | Stoiximan
.NET collections: implementation details and use cases
Themos Piperakis, Senior Software Engineer
12.00-14.00 | Taxibeat Intro
Taxibeat behind the wheel. How we move everything from A to B
Maria Mouzakiti, Head of Communications & Marketing
12.00-14.00 | Persado Intro
12.00-14.00 | Testdome
Hiring developers demystified
Mario Zivic, Co-Founder
12.00-14.00 | Skroutz
Building with Ruby before it was cool
Chatzigeorgiou George, CEO & Co-Founder
14.00-15.00 | Lunch Break & Networking Hour
15.00-15.30 | Microsoft
Developer News & Updates from //build/ 2016 – What is newin the development world
Dimitris Gkanatsios, Technical Evangelist
Sophie Chanialaki, Technical Evangelist
15.30-16.00 | Upstream
Microservices and a short introduction on the architecture pattern
Sotiris Haritos, Head of Software Development
16.00-16.30 | Pamediakopes
The road to perdition: Migration from WCF -> Web API
Alex Savvas, Senior C# Developer
Kyriakos Kentzoglanakis, Deputy Director of IT
16.30-17.00 | Betsson Group
We are OBG (One Betsson Group)
George Antonakos, Frontend Developer
This event will be an event for all Developers around Greece and Globally.
Developers Day Event is more than an interview day! Our scope is to meet developers of all levels, discuss new technologies, chat with freelancers and point out successful startups. Attend our Workshops presented by the top IT companies, take part in the MeetUp event where you can listen successful freelancers talking about their path and get inspired by top start-uppers. In addition you will have the opportunity to explore educational institutes and programs during the day.
Please register here and book your seat for the event.